Bangkok Travel Guide
Bangkok Travel Guide
First time in Bangkok can be overwhelming and planning a trip to this city might get challenging. Surprising smells, new sounds, shopping heaven, different culture and a food paradise are some things that describe it. In case you're heading to the capital city of Thailand, the best time to visit is between February and November. Here is a list of things that you should include in your itinerary:
Street Food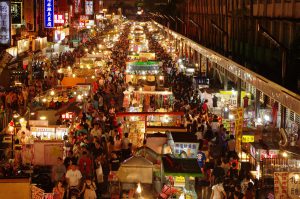 Bangkok is one of the world's greatest street food cities and as soon as you start exploring the city, you'll discover that there are numerous of delicious things to eat everywhere you look. Its one of the ultimate joys of being in Bangkok. You can get anything from a snack to eat to an entire sit-down meal feast on the streets of Bangkok, twenty-four hours a day. Noodle soup, grilled meats, papaya salads are some examples of foods you'll find. Some must visit Bangkok streets are Wang Lang Market, Chinatown, JJ Green market.
Visit Wat Arun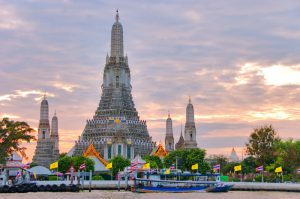 Wat Arun is probably the most recognizable landmark in Bangkok. Its one of the most famous and beauti ful temples of Bangkok. The central tower of the complex, called the Phra Prang, is 80 meters high and offers you a great view over the river with the Grand Palace and Wat Phra Kaeo in the background, if you make it to the top. You will be mesmerized by the beauty of the temple. The Wat Arun is open daily from 8:30AM to 5:30PM. The sun sinking behind the temple will be a highlight of your first time in Bangkok.
Floating Markets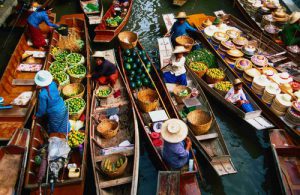 There are many floating markets in Bangkok, but only a few of them are real. Boats full of fruits and veggies, people trading on the banks of the canals, the smell of Thai food in the air is what you get when visiting a traditional floating market in Bangkok. You'll find some of the best Thai food here. Almost every traveller has a visit to a floating market in mind on his first trip to Bangkok.
Shopping Paradise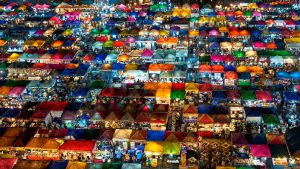 Very popular for Thais are also the many shopping malls in Bangkok. Malls in Bangkok are more than just malls – they are social hubs. From the gleaming chrome and towering size of modern, air-conditioned malls, to the hustle and bustle of its famously buzzing street markets, Bangkok has all kinds of places to shop. Things to buy in Bangkok are countless in variety and endless in quantity.
Bangkok welcomes more visitors than any other city in the world and it doesn't take long to realise why. It never ceases to amaze. The bustling city is a combination of weird and wonderful sights, sounds and smells and worth a visit.