Exploring Dubai
Exploring Dubai
Shopping, adventure, relaxation, you surely have a long list of things to do in Dubai. Dubai is spectacular with its panoramic views, wonderful cruises and breathtaking attractions.From kids to youngsters, Dubai never fails to amaze people from any age group. An amalgamation of ultra-modern cosmopolitan lifestyle and ancient Arabian culture, it has plenty to offer. It has everything from adventure activities like hot-air ballooning, skydiving and desert safaris to shopping at state-of-the-art malls and delectable cuisine.
Burj Khalifa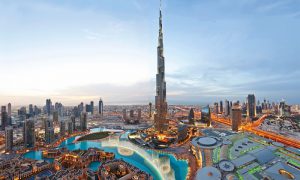 The most talked about building of Dubai, The Burj Khalifa is a crucial item on any Dubai itenary. The Burj Khalifa is also the tallest free-standing structure in the world and home to the highest outdoor observation deck in the world which means it has some great views Once you enter, there isn't much to do but still it's still a definite one time go.If you to decide to take a trip to the top, book in advance to get a cheaper admission price.If you to decide to take a trip to the top, book in advance to get a cheaper admission price.
Desert Safari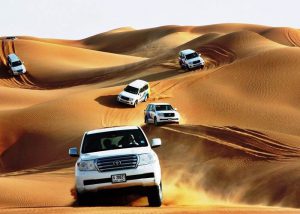 You have not experienced Dubai completely until you go for the famed Desert Safari. You can book a tour before hand and get a whiff of the ultimate adventure while you manoeuvre through the exciting and panoramic deserts of Dubai. Its must for everyone visiting the UAE. It's half a day of action packed experience and those who love thrills, this one's really gonna be memorable.There are many desert safari tour companies ensure that you don't take the cheapest. This is a professional sport and you need reliable drivers to do it.
The Palm Jumeirah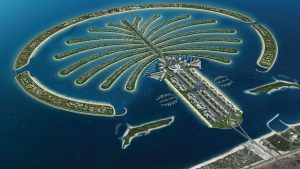 Another one of Dubai's most famous attractions, The Palm Jumeirah is a man made island in the form of a palm tree. Dubai has this passion to build simply the biggest, largest or the most extravagant manmade structures and this one is on top of that list.So big, that it is visible from space. It houses some of the finest hotels and private gated residencies and it's worth a visit.
Dubai Mall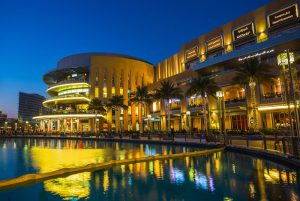 Located in the heart the prestigious Downtown Dubai, described as 'The Centre of Now,' is The Dubai Mall, the world's largest and most-visited retail and entertainment destination. Even if you aren't interested in buying anything, a visit to this immense retail center is a must: The Dubai Mall also contains numerous entertainment facilities, such as an ice rink, a movie theater and several kid-friendly attractions, including an aquarium that houses more than 33,000 underwater creatures.
Jumeirah Mosque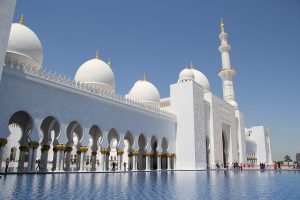 The only mosque in Dubai that allows non-Muslims to enter, offers a refreshing glimpse into Islam's rich heritage. Its detailed white facade – which graces the 500-dirham note – mimics the architectural style of Islam's Fatimid period. This iconic mosque is built on the lines of the medieval Fatimid tradition, and when illuminated, the minarets and other ornate details simply come to life.Even if you're not religious, we strongly recommend a visit to this attraction for its educational value and cultural significance.
Whether you want to enjoy dinner on the beach next to the sea, amuse yourself at the first Ferrari branded theme park, encounter impressive skyline of Dubai , shop your heart out , catch the waves at the Jumeirah Beach or experience a hot air balloon ride. Dubai welcomes you with something more than it has.  Get great deals for hotels and flights at  www.travango.co.uk/social and enjoy the luxury of Dubai.